Concussion
Proudly serving Tarzana, Agoura Hills and Los Angeles County
What is a concussion?
A concussion is a complex pathophysiological process affecting the brain, induced by biomechanical forces such as a direct or indirect blow. Concussions can be caused by a blow to the face, neck or elsewhere with transmitted forces to the head. Concussions usually result from a rapid short-lived impairment of neurological function, which resolve spontaneously. The majority (80–90%) of concussions resolve in a short (7–10 day) period, although the recovery time may be longer in children and adolescents. Although no abnormality is seen on standard structural neuro-imaging studies, a head CT or MRI may be considered if there is prolonged loss of consciousness, an abnormal neurologic exam or ongoing symptoms consistent with an intracranial hemorrhage.
Common side effects include:
Confusion, feeling spacey or foggy, not able to think straight
Feeling drowsy, difficulty waking up
Headaches and dizziness
Slight memory loss of events occurring right before or right after the injury
Nausea and vomiting
Sensitivity to light and/or noise
Balance problems
Loss of consciousness (the duration of the unconsciousness may indicate more severe injury)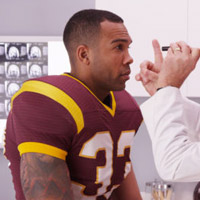 Management
At PCSM, we offer a comprehensive, multidisciplinary approach to concussion care. As part of the comprehensive evaluation, patients meet with one of our sports medicine physicians as well as our sports neuropsychologist. The ability to be evaluated by both providers at the same visit allows us to ensure that each patient receives an individualized assessment and treatment plan. Our sports neuropsychologist specializes in neurocognitive assessment and provides personalized return to school and work recommendations.
Our comprehensive evaluation includes computerized neurocognitive testing to aid in the diagnosis and management of concussion. We use the ImPACT neurocognitive computerized test, which assesses multiple areas of cognitive (brain) functioning that can be affected after a concussion, including memory, processing speed, and reaction time. The results of testing help our clinicians understand how the brain has been affected by the injury and allow them to assess recovery. The ImPACT is one of many tools our clinicians use as a part of the comprehensive evaluation to ensure each patient can return to school, work, and sport as quickly and, most importantly, as safely as possible. All of our clinicians are Certified ImPACT Consultants (CIC), trained in the administration and interpretation of test results.
Douglas R. Polster, PhD
Sports Neuropsychologist | Performance Consultant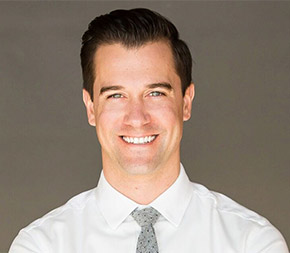 Doug is originally from New Jersey and earned his undergraduate degree from Johns Hopkins Universityin Baltimore, Maryland, where he played on and captained the men's varsity basketball team. Hecompleted his PhD in clinical psychology, with an emphasis in sports and health psychology, at NovaSoutheastern University (NSU) in Fort Lauderdale, FL. Doug continued to expand his expertise within thehealth psychology world on his clinical internship at the Broward Health Medical Center in FortLauderdale, FL where he focused on successful recovery from illness and injury.
After earning his PhD, Doug completed a two-year post-doctoral fellowship in sports neuropsychology atthe UCLA Steve Tisch BrainSPORT Program where he specialized in concussion diagnosis and management. While on fellowship, he created and implemented a novel treatment program designed atassisting athletes with prolonged post-concussion symptoms with successful return to their sport. Hehas worked with athletes at all levels, including professional, Division 1, and high school.
Doug has been an athlete for his entire life and brings his passion for sports into every clinical visit. Dougremains active within the athletic community, enjoys golfing and surfing, and serves as the director of alocal fitness club whose mission is to inspire health and happiness through collective fitness.